The Open Door Newsletter-Magazine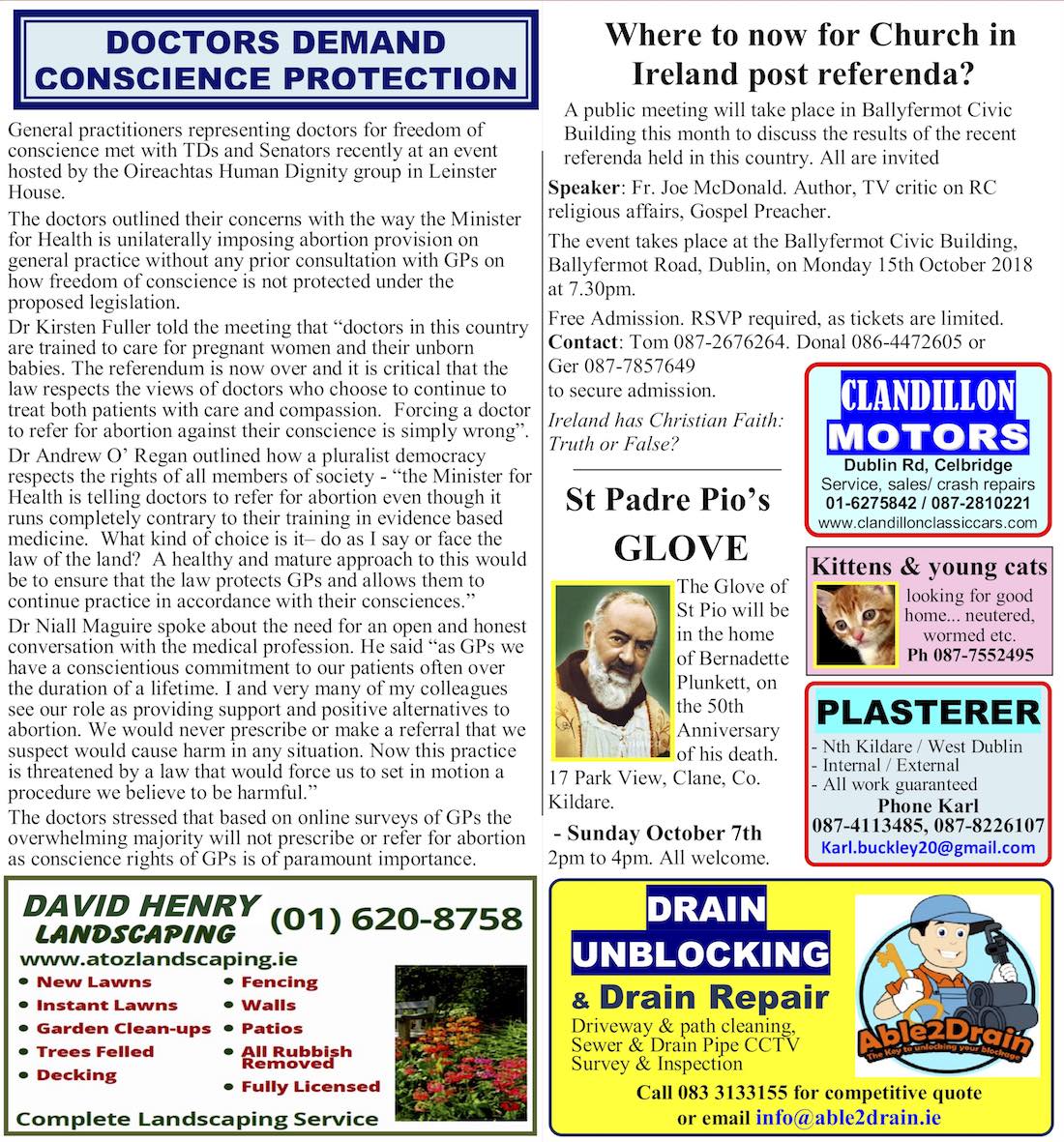 The Open Door weekly Catholic magazine features columns of general interest ...
The Peace Corner

-

Frances Hogan, a lay missionary and educator working in the Catholic Church since the late 60's.

See Frances on worldwide TV channel, EWTN (Sky 589, NTL 815), Mondays 8.30pm.

You can access her books, CDs and DVDs on: www.franceshogan.com

The Wit & Wisdom of GJ Chesterton

-

With Maolsheachlann O'Cealaigh

I'll Stop Tomorrow -

by addiction counsellor Paul Campbell

Cooking With Confidence

-

with Ingrid

The Week Ahead

-

events in the Church with daily Scripture Mass readings

Make The Wild Rose Bloom

- with Fr Gabriel Harty O.P.

The Pope Speaks-

some of the Holy Father's teachings from previous week

Motoring Matters

- with Declan Glynn

Starting today the Healthy Way

- looking after the body with Gertrude (Food Technologist)

Postcard From OZ

- with Fr. John

Breastfeeding guide

with Fionnuala

Medical Herbalist

-

Anna Maria & natural remedies...

Fast Food for your soul

- keeping it healthy

Show Me That in the Bible

- Catholic truths and where to find them in Sacred Scripture

Dear Grace

-

letters to theologian Grace and her answers

What it says in the Gospel

- the Sunday Gospel reading with commentary

Help With The Harvest

- with former Baptist Minister Michael Matthews

Why I'm a Catholic

- with Steve Ray

Celebrate the Catechism

- The Bible explained

Starting Today The Healthy Way

- with Gertrude the expert on Food & Health

and much more...
THE OPEN DOOR BRINGS RESULTS TO OUR ADVERTISERS - PLEASE SUPPORT THEM!
Always check out an advertiser before proceeding - this can save a lot of headaches later!

Read about the history of or buy the Brown Scapular
Catholic/Christian Air Fresheners

Visit FaithFresheners.com for a large range of Christian/Catholic air fresheners for car or room.

27 images available, but your special pictures can also be supplied, subject to quantity, in a large variety of scents.

Ideal fundraising for parishes, groups etc

Quantity discounts, wholesale & retail.

Agents / distributors wanted worldwide.